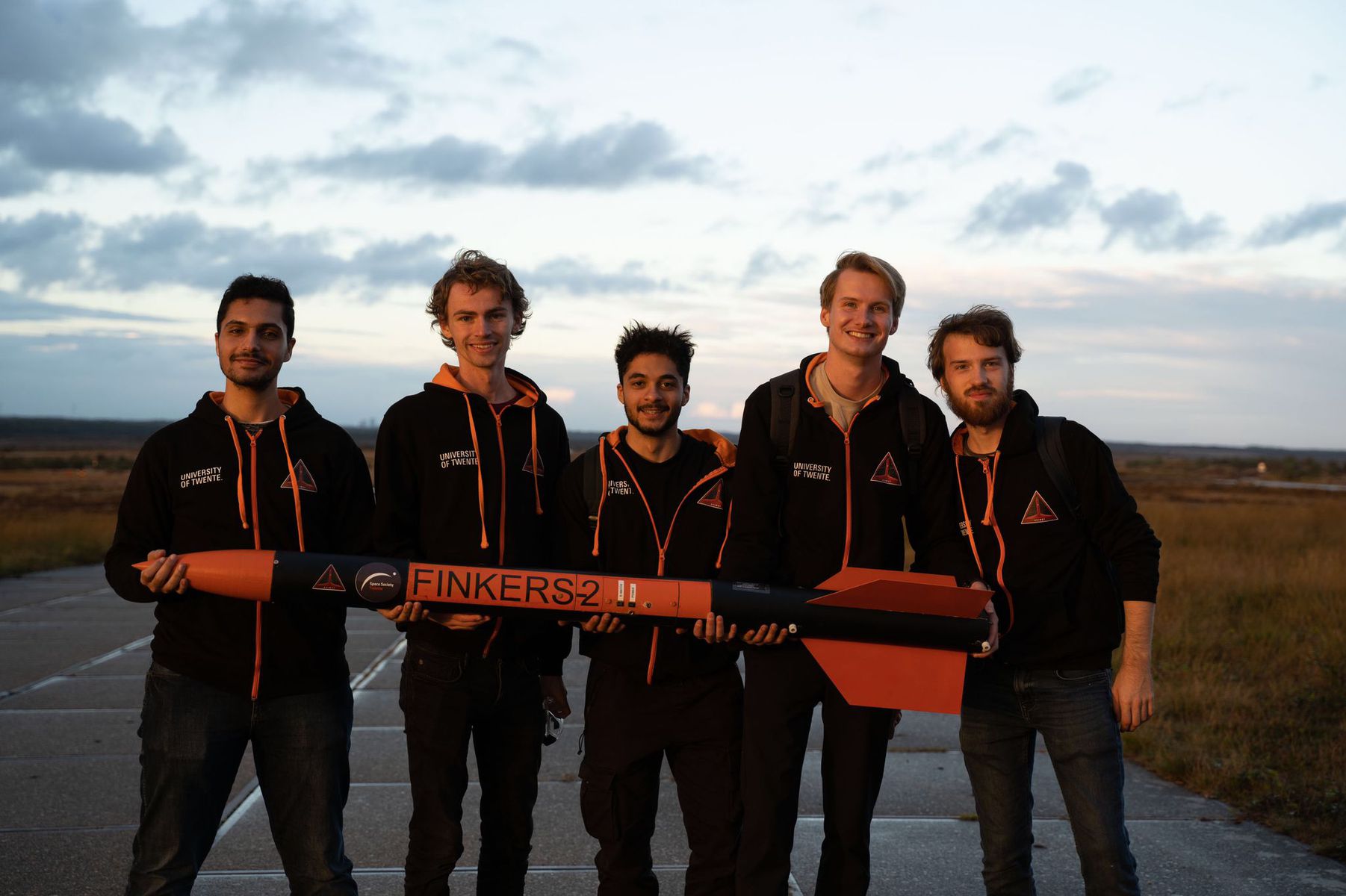 Rocket Project AzimUT
Besides being a student association for space enthusiasts, the Space Society is proud developer of the ambitious AzimUT rocket project. We are actively developing, building, and launching high power rockets, capable of reaching 1 kilometre in height. The AzimUT team is a highly motivated, skilled, and disciplined team plans to develop and build rockets that will compete with other student rocketry teams in national and international challenges. So are you a space enthusiast? Are you looking for a challenge? Do you want to an engineer of the future? Join the rocket project!
The Rocket Team has great plans for the future and we are recruiting new members. Ranging from engineering, designing, managing and more, we need you! Contact the board for more information! Anyone can join, there are no other prerequisites than being intersted and motivated! This is a part-time project, a commitment of 2 to 4 hours a week is expected. In order to apply, you have to write a motivation letter. Please contact the board for more information.
This ambitious project can be divided into subteams, working together and helping each other where necessary.
Propulsion team
This team will be working on making our self-made solid rocket motors. Solid rocket motors are reliable, simple, cheap, and provide great experience and infrastructure to one day make more sophisticated engines, such as hybrid or liquid rocket engines. The aim will be to develop and test solid rocket motors that are more sustainable than alternatives, by using bio-fuels and eco-friendly additives, such as aluminium powder. All members of the propulsion team will be members of the safety team automatically, as the task of casting rocket motors is risky! 
Construction team
This team will focus on the engineering and construction of our rockets. A typical rocket consists of a rocket engine, a mounting solution for the rocket engine, a fuselage, a parachute deployment system, and a nose cone. Building a successful rocket can be quite a challenge. For example, the motor mount needs to withstand the forces of the rocket engine and the parachute needs to deploy successfully and at the right time. Another challenge is keeping the weight as low as possible, because any extra weight will decrease the maximum height of our rocket. Of course there are many more challenges to overcome.
Avionics team
The Avionics team focuses on the electronics and software of the rocket. Its activities range from PCB to embedded software development while keeping an eye on weight and size, therefore working in tandem with the construction team. Design goals so far have been data logging and storage for environmental and flight characteristics, with new features such as wireless communication and GPS locating integrated as well. Future plans to control the rocket in-flight by the means of airbrakes are being thought worked on, placing even more of a reliance on this interesting field of rocketry.
GNC team
The GNC team primarily focuses on designing and testing the control of the rocket's flight path subsystem. GNC stands for Guidance, Navigation, and Control systems that power spacecraft. Most of the teammates work on running computer simulations determining how the rocket will behave under certain conditions. The GNC team is also responsible for modelling and controlling these simulations for members of the Avionics team. One important goal of the team is modelling and controlling the rocket equipped with airbrakes, which is a system to actively control the apogee of the rocket during flight.
Safety team
Safety first! Rocketry is inherently dangerous, and risks have to be managed. Making experimental rockets almost unavoidably creates explosions during testing. That is why the Space Society has the Safety Team, consisting of Safety Officers, who have undergone undergo extensive training to handle explosives and launchsite safety. Any activity that could potentially be hazardous is scrutinized by Safety Officers. There is no room for error regarding safety.